CookingFunアバウト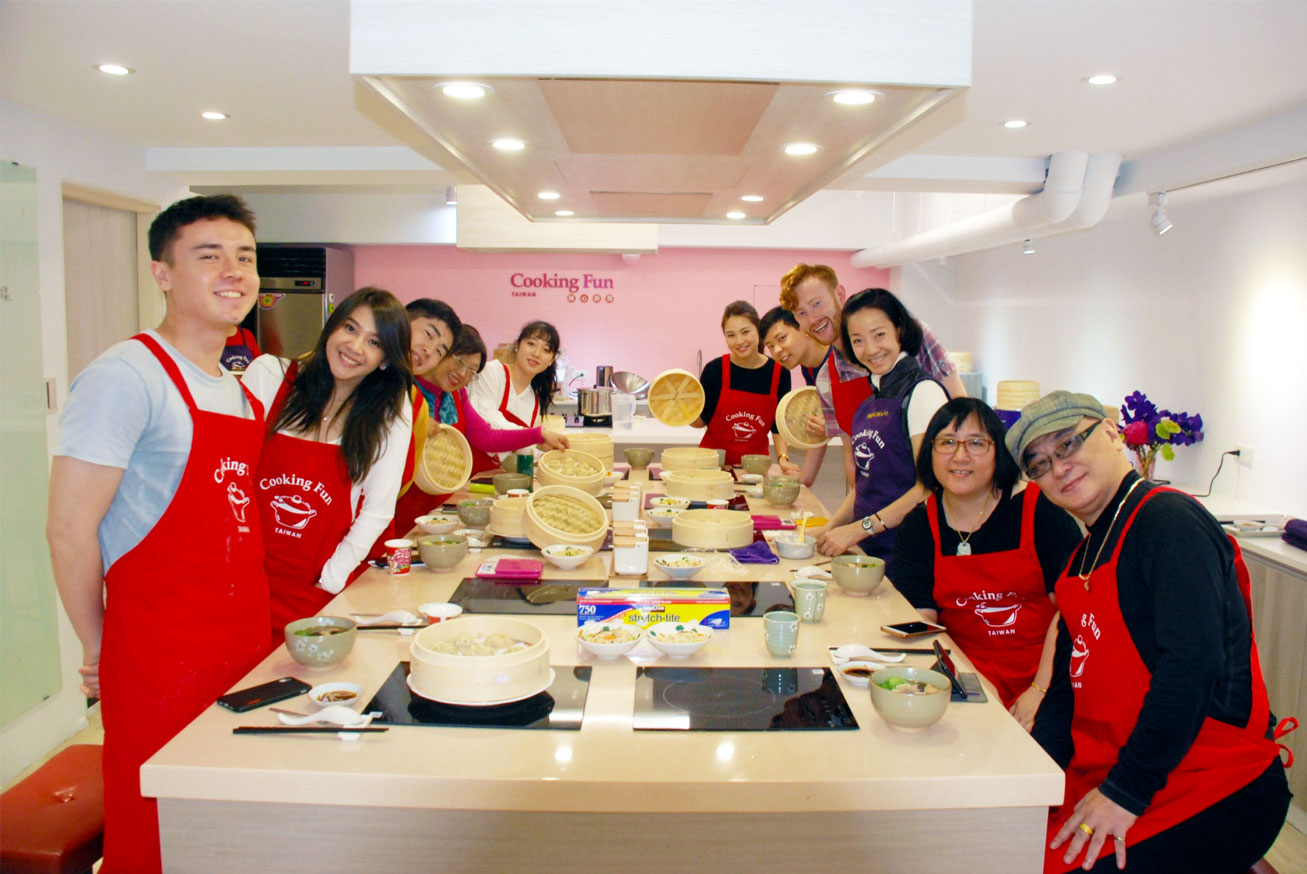 CookingFun料理
美味しくてヘルシーな地元グルメをつくります
台湾語の『ご飯食べましたか?』は、台湾で一般的な人と人との思いやりにあふれた挨拶の言葉から来ており、この『ご飯食べましたか?』は台湾人の良き一面を表しています。CookingFun暖心廚房の理念もこれと同じく、周りの親しい友人や世界各地から訪れる旅行者の1人1人にお腹いっぱい食べてもらいたい、台湾のグルメを味わってもらいたいと思い、また同時に台湾人が持つおもてなし精神と人情の温かさを感じてもらいたいと考えています。
『ご縁キッチン』はいつでもあなたとグルメの縁結びをします!
CookingFun暖心廚房の料理は台湾のお母さんが代々受け継いできた手作り料理です。台湾の四季折々の野菜、果物を使用し、美味しくてヘルシーな地元グルメをつくります。私たちの料理は学習ではなく、コースに参加した友人たちと、例えば台湾グルメにおけるエシャロットの必要不可欠な重要性、調味料の持つ甘みの神髄、醤油煮込み料理が紅焼と言われる由来といった台湾料理の材料についてのおしゃべりに参加することだと思っています。台湾料理のスパイシー、あっさり、辛いけれども塩辛くない、さまざまな美味しさを、CookingFun暖心廚房は地元グルメを介した心の交流で世界各地から訪れる旅行者と分かち合い、本当の美味しさを伝えます。日本語、英語、中国語の話せる料理講師がおり、台湾の美味しい記憶を人生に刻むお手伝いをします。台湾グルメの歴史や人情味あふれる地元の風情を旅の忘れられない思い出として留めておきたいのなら、CookingFun暖心廚房コースにお越しください、お待ちしています!
お客様の声

katrina t
An Unforgettable Birthday!!!
小籠包,麻油雞麵線,珍珠奶茶(台灣烹飪課,台灣菜,14:00-16:30 pm)
This was a first experience for my wife and me so I didn't know what to expect. The food was fantastic and the staff was
professional and gave detailed instructions on every dish. To make the experience extra special, they went and got a
birthday cake just for me . It was the kindest gesture and I will never forget it! We were only in Taiwan for a few days,
but it was one of my favorite places we visited.


Margie N
Happy cooking lesson with good returns 滿滿足足的烹飪課
小籠包,麻油雞麵線,珍珠奶茶。
The cooking school is spacious and comfortable. Due to Chinese New Year, the market nearby was still closed and
I got partly refunded for not able to go for the market visit. I was the only student in the class. I felt so good with full
attention without paying the fee of a private class. Vivian, the owner as well as the instructor, was very professional
and friendly. I made a full set of Taiwanese meal with Xiao Long Bao (dumpling), Chicken vermicelli with mushroom
and sesame oil, tofu salad and a bubble milk tea. Vivian was very thoughtful and with my request, she helped to
change the ingredient from pork to chicken meat for my Xiao Long Bao. Vivian taught me the secret in making
Xiao Long Bao. The whole set of meal was very good and delicious, and the learning process was very enjoyable.
Also, I need to thank Vivian for her kindness in giving me 3 surgical masks, especially under the current Wuhan
corona virus situation that I could hardly find any mask available for sale in Taipei.

學校地方很寬躺和整潔, 而且又在捷運站附近, 所以很方便。 因為在農曆新年期間, 附近的街市還未開市, 老闆娘導師 Vivian把一部分的學費退還给我。 另外因我不吃豬肉, 所以她就用雞肉來代替豬肉做小籠包, 也有純素的選擇。 導師教了我一個做小籠包的秘技, 做出來真的很好吃。 除了小籠包外, 還做了豆腐沙拉, 蘑菇和香油雞粉絲,和泡泡奶茶。 上課的日子, 正是武漢爆發期間, 很難在台北買得到一個口罩,就我離開時,老闆娘導師還送了我三個口罩防身, 真的很有人情味。 謝謝!


karmicluv22
Great Experience
小籠包,麻油雞麵線,珍珠奶茶(台灣烹飪課,台灣菜,14:00-16:30 pm)可用日語
We spent a four day weekend in Taipei for my wife's Birthday. The cooking class was something we had not done before.
The instructors were very knowledgeable, patient and detailed in their instruction. After we made our food we sat and ate
together. We did not expect the staff to remember that it was my wife's Birthday and bring in a Birthday cake for her.
The staff at CookingFunTaiwan made the entire weekend memorable for us with their small thoughtful act.
We will never forget this experience. 100 Thank You's!!!


Tiffany C
A lovely afternoon in an immaculately clean & brand new kitchen with excellent food and amazing instructors!
小籠包,麻油雞麵線,珍珠奶茶。 (台灣烹飪班)
Cooking Fun is a family-run cooking school that has recently opened - and the venue is sparking clean and so very nice!
Probably the nicest and cleanest cooking class I've ever participated in. You could tell the owner Vivian has put thought
and detail into every single aspect of the experience (from individual bowls/tools and stickers to label your food so everyone
eats only what they've touched, to a nice relaxing bathroom (again - SO CLEAN) with hand lotion). There are 8 individual
stations with a demo station at the front, and a lovely dining area to sit afterwards and enjoy your creation.
Today we were a class of English-speakers so Jenny was there to guide us and translate for master chef Vivian. It was nice
having so much attention as our class was small. This is a hands-on class, not just watching the instructor - so be prepared
to engage! When it came time to cooking, everything was thoughtfully portioned and timed. In this class we each made
7 soup dumplings, a local soup similar to hot and sour (which was enough for 2 bowls per person), and boba milk tea.
We had some students with dietary restrictions so Vivian and Jenny were able to individually customize recipes to their
requirements. The soup dumplings were quite challenging to make, but with the instructors' expert advice, they all turned
out great. They also took lots of photos so we didn't have to handle our phones with dirty hands, and sent them to us via
email. I cannot stress enough how kind and thoughtful they were. At the end we received an adorable certificate with the
recipes inside. 10/10 would recommend for both beginners and experts!!!


_O809KD
また伺います!とても楽しく美味しい時間をありがとうございました。
蘿蔔糕,肉羹湯,涼拌乾絲(台灣烹飪經驗,烹飪課,下午17:30至20:00)/日本
台湾を訪れる度に色々な料理教室に参加しています。その中でも一番わかりやすく、メニュー設定も自分の希望に「ドンピシャ」なのがCooking Fun Taiwanです。定番の小籠包だけでなく他の人気台湾料理やデザートも習えるので、初めての方はもちろん 料理教室リピーターにも嬉しいです。優しいヴィヴィアン先生と色々なおしゃべりをしながら温かな雰囲気の中で楽しくレッスンできます。今回は「大根餅」「肉団子のとろみスープ」「豆花」のクラスに参加しました。美味しかったです!!また伺います。


Getaway788706
楽しかったです
小籠包,麻油雞麵線,珍珠奶茶。 (台灣烹飪班)
中々出来ない体験だと思います。室内はすごく清潔で、6歳の子供も楽しめました。先生は日本語も上手だし、優しくて、子育ての経験から食の大切さに気づいて色々研究されたそうで、その想いにも共感しました。



kobamyuda583
台湾での特別な思い出になりました
蘿蔔糕,肉羹湯,涼拌乾絲(台灣烹飪經驗,烹飪課,下午17:30至20:00)/日本
初めての台湾旅行で、食べ歩きもいいけれどせっかくなら現地の方から料理を習ってみたいと思い申し込みました。 私は現地の言葉は全く話せないのですが、ヴィヴィアン先生と日本語でお話ができ、作り方以外にも台湾のことなどたくさんお話できて楽しかったです! 料理はどれも美味しく出来上がり、帰る時はお腹いっぱいになりました。 とてもフレンドリーな雰囲気が良かったので、また行きたいと感じる体験でした。 ありがとうございました!


Best part of my trip to Taiwan! Definitely would recommend!
My mom, my best friend and I recently visited Taiwan. After a few days of walking around the busy streets and eating street
food, we decided we wanted to do something different and book a cooking class. As soon as we got to CookingFun they
welcomed us with hot tea and were some of the nicest people we have ever met. We made the best Xiao long bao any of
us had ever tasted! My mom who came to watch and take pictures is vegetarian and Vivian took it upon herself to make
my mom her own vegetables, vegetarian soup, and scallion pancakes even though she was not signed up for the class,
and none of that was included in our visit! Vivian told us what each ingredient was and made sure we were fully aware of
how each dish was made. We made a delicious soup, and bubble tea as well! After the class they gave us a bow of fresh
fruit and more bubble tea to go! I couldn't have had a better experience, and I truly would recommend this class to anyone
visiting Taiwan!